Why we created Wunderground
Coffee is one of the most ritualistic beverages on the planet. Mushrooms are one of the most powerful organisms on the planet. We are deeply inspired by the notion of human connection and how we can build products, experiences, and brands that help foster human connection. This is the thread between Coffee, Mushrooms, and Community.
Founder Jody Hall listened to a lecture on mushrooms many years ago, and this was the genesis of Wunderground. We're a cause, we're a product, and we're a place. At its core, coffee is connection. Our modern and digitized world, has left many of us living in a new normal where heightened stress and anxiety are commonplace.
So, we focus on coffee and make it better, building what we call "Coffee 2.0". We created our Wunderground blends so coffee lovers can feel and perform better, inviting health into every sip. Wunderground roasts incomparably delicious, beneficial, and efficacious adaptogenic coffee. We don't force people to swap taste for benefit, like you often find with other adaptogenic products. Our coffee has won awards for flavor and is roasted with care, attention, and purpose.
Using the magical world of mushrooms as inspiration, we have built a brand and culture that is people-first. A purpose-driven company that operates from the heart, we connect brand and experience with health, offering a powerful antidote to a global mental health epidemic. We believe "wunder" is something you feel when you are present-minded and feeling well. When we feel calm and balanced, we are able to connect and solve problems, working together to ultimately feel better. 
Our products nurture this creativity through coffee, community and connection. 
This is the foundation of Wunderground — we're all in this together.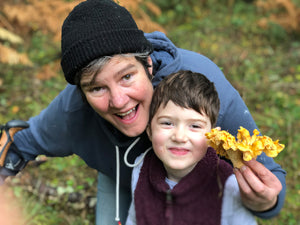 A note from our founder, Jody Hall
Everything I've created or put passionate energy toward has been driven around one single idea: Inspire profound human connection. I try to do so by creating a people-first culture that builds trust and collaboration. Most of us are starving for this environment. I learned that early in my career while helping to grow a tiny coffee company in Seattle into a revered global brand. I've applied it to every company I've built since.
Wunderground is the culmination of everything I'm passionate about. We're taking the most enjoyed and ritualistic beverage in the world, making it better, and making it to make you feel better. We're making it better by adding incredibly efficacious adaptogens in the form of medicinal mushrooms. We're making it better by working with smallholder coffee farmers directly, and putting 75% of the premium price back into their pockets. We're making it better by creating a company of the future--one that gives ownership to every one of our team members because we rise together. 
We're focused on not just a great collection of creations and revenue for our stakeholders, but also for our impact on people and planet. As a lesbian business owner that has been a pioneer and led the narrative in each of my prior companies, I'm especially keen to the decline in our mental health over the past decade, exacerbated this year by the fear and isolation from Covid-19. Our coffees really help us combat the new escalated normal of stress and anxiety. Regular consumption helps remove the cloud that overwhelms us and brings clarity to our day. I'm excited to hear how people feel after drinking Wunderground. I'm excited to continue to build a company that inspires wunder, a feeling we have when we're grounded and present. On top of that, I'm dedicated to being a vocal and unapologetic supporter of mental health. We all could use a little help from time to time. My passion around Wunderground being a part of the solution is what drives me every day.